Our boutique florist shop in Moulsham Street, Chelmsford is always a hive of activity – especially now that the wedding season is underway!  Read on to find out what we have been up to this week.
Bespoke Funeral Tributes
We have been working on some bespoke pieces for a funeral.  Creating a personal, heartfelt tribute that reflects a loved one's personality often helps those in mourning to express their feelings at such a difficult time.
Our experienced florists pay enormous attention to detail to get the design just right.  Starting with an oasis, we then add the flowers and other suitable materials such as ribbon, foliage or printed labels as in the case of the champagne bottles.
We will often use a special florist's spray paint to colour the flowers as you can see in the photos.  This is necessary to obtain the wide spectrum of colours required for a realistic tribute.  It also adds depth to the piece.
Picking and Preparing Fresh Flowers Delivered Straight from Holland
Every Wednesday, Bert from 'Q flowers' comes straight from Holland in a refrigerated lorry with a fresh flower delivery.  We take our time to pick the flowers we want, ensuring we choose only the best quality blooms.  This is one of the highlights of our week, being surrounded by so many beautiful flowers – we feel like kids in a sweet shop!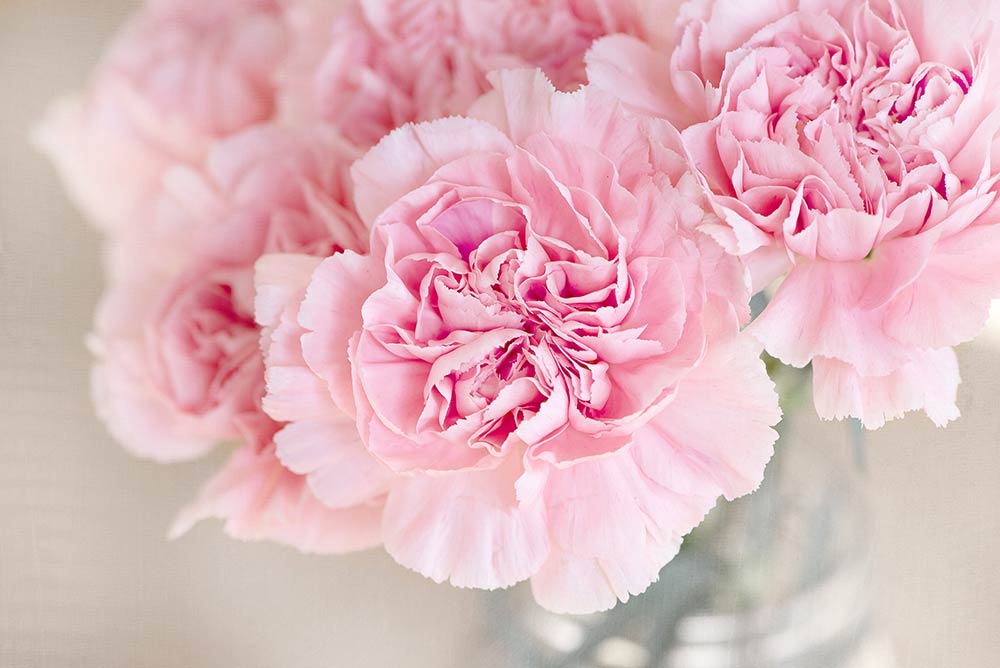 Before we can arrange our new flowers, they need to be properly conditioned.  Conditioning ensures that the flowers and foliage stay at their very best for the maximum amount of time.
The exact process depends on the type of stem: whether it is woody, hollow, soft, firm or milky.  However, conditioning usually involves first stripping the lower leaves which would otherwise rot below the water.
Next, we cut the lower one or two inches off the stem.  When the flowers arrive, they will often have air bubbles or bacteria clogging this lower portion of the stem.  Cutting them allows water to pass more easily to the blooms, preventing wilting.
It is important to use a sharp knife to make the cut: scissors can crush the stem, restricting the flow of water.  We always cut stems at a 45-degree angle: a straight cut can lead to the stem resting on the bottom of the container, preventing water from flowing up to the flower heads.
After trimming, we place the flowers in a bucket of tepid water and placed into a cold room for storage.  Many florists don't have this luxury, but it is another key step in keeping the flowers lovely and fresh!
Whoever Said Being a Florist was Glamorous?
Unfortunately, a florist's life isn't always about being surrounded by sweet-smelling flowers: we get the dirty jobs too!  Another essential factor in keeping our blooms fresh is regularly cleaning out the flower buckets.
This involves using bleach and washing up liquid to get rid of any contaminated water.  The buckets have to be spotlessly clean to prevent bacteria build up which can be absorbed by the fresh stems, slowly blocking their water uptake and shortening their life.
Another not so fancy job involves MOUNTAINS of cardboard!  We get so much cardboard with our delivery that each week we break it all down and give it to the local Scouts' hut.  They, in turn, raise money for recycling it.
Wedding Season is Upon Us!
With the new wedding season now underway, our florists have been busy preparing not only the flower arrangements, bouquets and buttonholes, but also all the hire pieces. We have to get all the appropriate glassware, mirrors, tea lights – whatever the bride wants from our store room – and make sure it is cleaned and prepped ready for use.
This week we dressed Maidens Barn, a beautiful vaulted wedding venue that dates back to 1806.  It is so lovely to see all our hard work come together as one finished piece!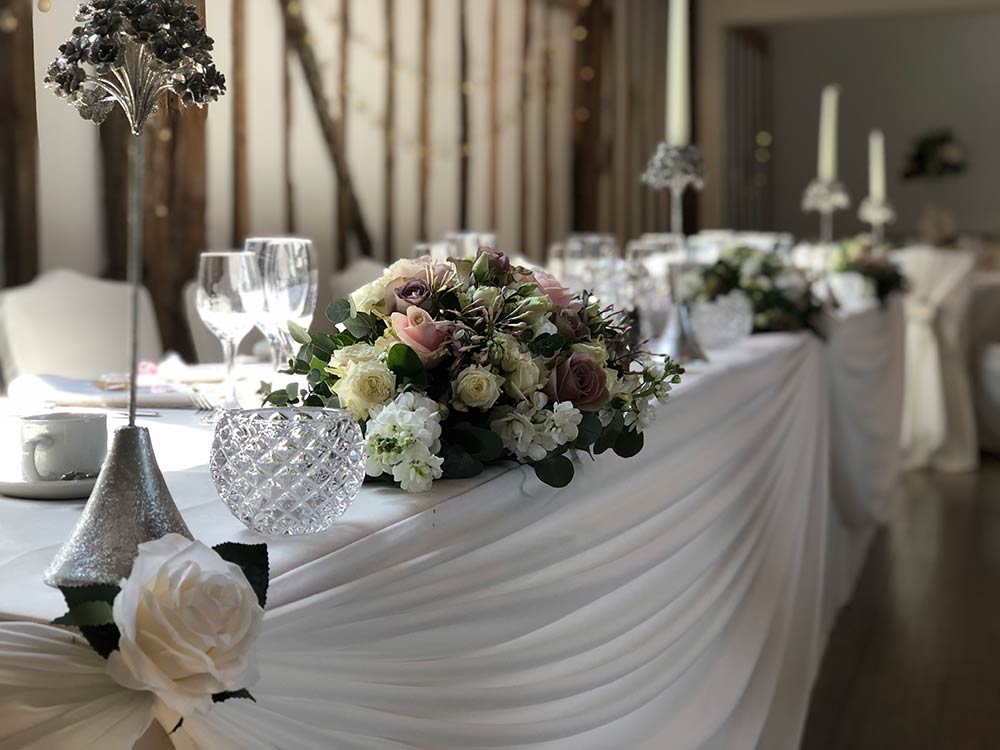 Phew!  Now to get planning for another busy week…